Ground Floor - East Entrance
Welcome to the McAlester Scottish Rite Masonic Center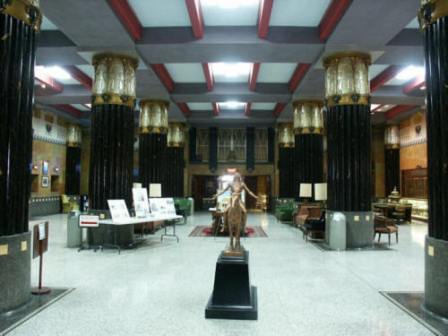 Main Lobby - Pre-1952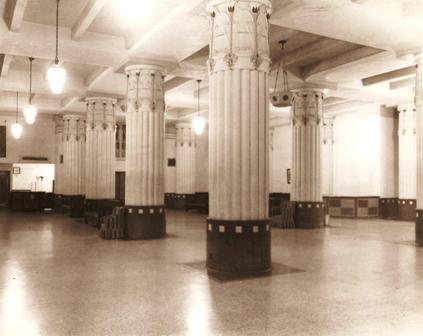 Main Lobby - Today
What you are seeing is the Main Lobby constructed from the 1930 remodel of the building, the paint treatments finished in 1952.
The columns you see are plaster facades over 3' steel I-beams which support the Auditorium upstairs.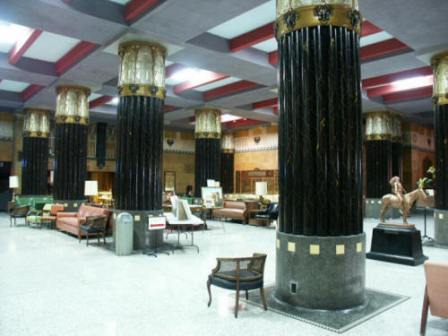 In the Main Lobby, you will find many display cases containing artifacts from all over the world once owned by our members.
Once such case is from Will Rogers - famous Oklahoman humorist, actor, and newspaper columnist - who took his Scottish Rite degrees at the McAlester Consistory in April 1908. Our claims to fame with this display are his original Scottish Rite petition as well as the last telegram he ever sent (if you read closely, the last line reads, "Well, Wiley's got 'er warmed up. Let's go.").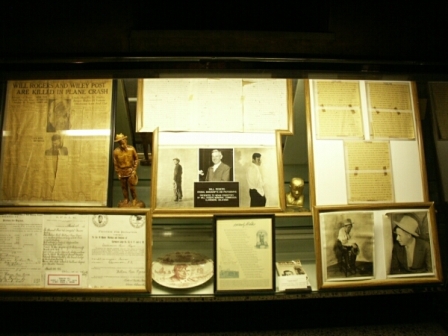 A Century of Time
This grandfather clock greets you at the first landing of the south stairwell.
It was hand crafted for the 1907 building by Joseph Mazer, a former lawyer turned clock-maker, right here in McAlester. When the Main Lobby was remodeled in 1928, this clock was set into its current place and hasn't moved, nor lost time, since then.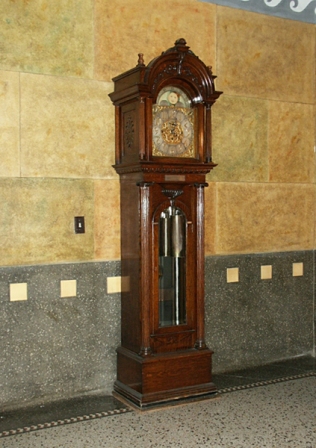 Sovereign Grand Inspector General's Conference Room
To the north side of the Main Lobby is the S.G.I.G.'s Conference Room where the Advisory Conference meets monthly to handle the business of the McAlester Scottish Rite. Its predominantly purple color is a tribute to the color of the S.G.I.G.'s cap.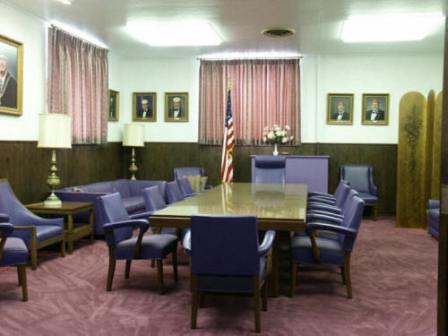 Ladies' Lounge
The Ladies' Lounge is where members can bring their wives so they can talk, read, relax, watch television, and plan what they'll do for the day while all the men-folk are in the Auditorium putting on the degrees.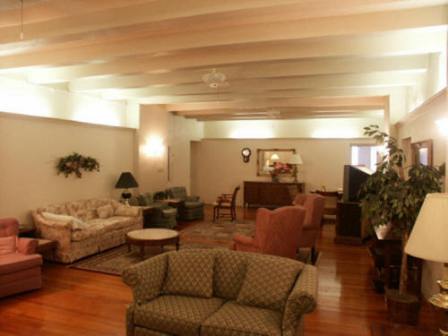 Elmer "Bud" Hale, Jr. Dining Room
The Elmer "Bud" Hale, Jr. Dining Room is the main dining room for the McAlester Scottish Rite Masonic Center.
It is open for public use, and hosts Holy Week luncheons, lecture events, and any other kind of presentation groups want to give. The commercial kitchen has the capacity to fix meals for hundreds of patrons.
If the room were to be set in seminar fashion, it could seat 500 people.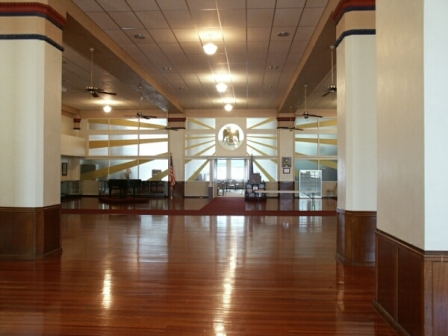 The Elmer "Bud" Hale, Jr. Dining Room in action.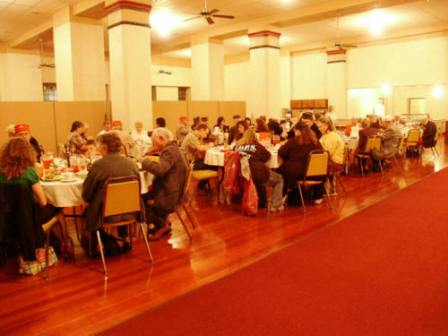 Men's Lounge
This is the Men's Lounge. This is where members can come to talk; play cards, dominoes, and pool; and watch television. The Lounge also has a concessions counter for light snacks and memorabilia, headed by the Order of the Symbolic Chain (aka the Chain Gang).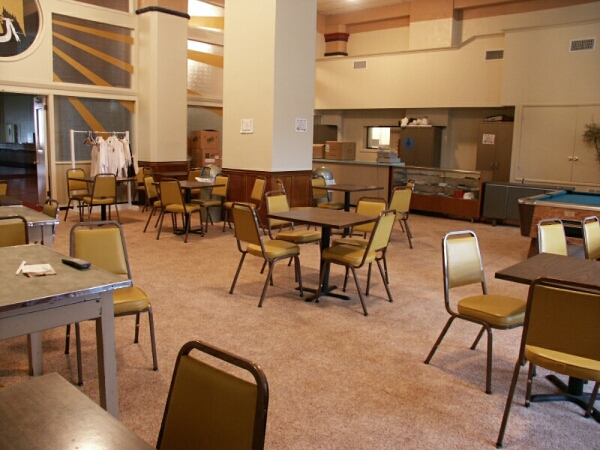 Boiler Room
Located in the basement of the Center, the original 1930 Kewanee gas boilers still heat the building after all these years. Many of the original steam registers also exist to give off the needed heat.